The History of 46 Sussex Square
1 Thomas Almond Garth 1797 - 1889
2 Anthony Dale 1912 - 1993
3 Documents
4. Balustrade and plasterwork
5 Bas Relief
1 Thomas Almond Garth 1797-1889
More memories of Earlier Kemp Town published in the Brighton Herald 26 March 1892 by William Baines
His next door neighbour ( to Thomas Warner 47 Sussex Square) for over 30 years was the late Thomas Almond Garth, a retired lawyer, who in his days of practice had won a law case. He used to be truly delighted to have an opportunity of talking about it. I believe he would have given any man a sovereign
to listen to his account of this case to the bitter end – but that man was not to be found.
To read more Memories of Brighton find the Article by Andrew Doig on the Estate page.
Thomas Arnold Garth, 1797-1882, a retired bankruptcy solicitor, listed in street directories at 46 Susses Square 1856-1885. Elected to the gardens committee in 1861, serving until his death in 1882, including as committee chair from 1877-1880.
Andrew Doig
2 Antony Dale 1912-1993
The term 'local historian' barely does justice to the immense amount of work that Antony Dale did to record the history of Brighton and perhaps even more importantly to conserve much of its architecture
Brighton planners made some serious misjudgements during the second half of the 20th century, none more so than in 1945 when they considered a wrong-headed scheme to demolish the Brunswick and Adelaide developments and much else of the seafront, replacing them with robustly modernist buildings, such as Embassy Court. This proposal, which also involved a car park in the midst of Brunswick Square, led to a massive public outcry. Anthony Dale responded by establishing the Regency Society, whose purpose was, and continues to be, to work with the council and often other societies to protect all that is best in the architecture of Brighton and Hove – of any era – and promote excellence in new developments.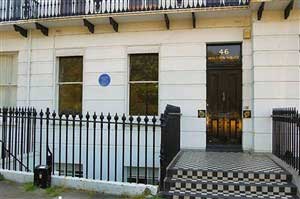 46 Sussex Square was Antony Dale's home for 48 years (as the blue plaque tells us) and that of his family before that. His grandfather Joseph Liddell lived there from 1904 until his mother Dorothy Dale took it over in 1921. Both generations had direct responsibility for running of the gardens, Joseph as chairman of the enclosures committee from 1915-17 and Dorothy as a committee member and holder of various offices from 1921-1963. Thus 46 Sussex Square, one of the very few houses on the estate never to have been divided into flats, was something of a headquarters for all gardening operations, most notably when Dorothy saw off an attempt by the war office to requisition all of the gardens for defence purposes. She secured a reprieve for the north garden, the section of the south garden above the 'horseshoe' and the potting shed, whilst the army made use of the southern section for a rent of £15 pa and a contribution to the gardener's wages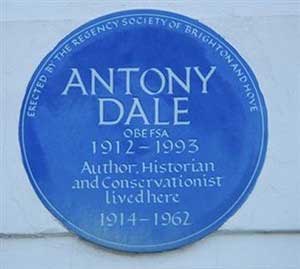 Antony Dale was educated at Brighton College as a dayboy and at Oriel College, Oxford, where he read law. For most of his life he was involved with buildings in one way or another. He worked for 30 years in the historic buildings section of the Department of the Environment and from 1969 to 76 was chief investigator for Historic Buildings in England and Wales. His role was to produce a list of buildings of special architectural and historic interest for the guidance of planning authorities.
He published 6 books about Brighton. Fashionable Brighton 1820-1860 marks the culmination of the work he did on the history of the town and in particular the work of Thomas Kemp. He also published in the 70s and 80s The History and Architecture of Brighton, Brighton Old and New, with James Grey, About Brighton, Brighton Town and Brighton People, The Theatre Royal Brighton,The Wagners of Brighton, Brighton Churches, and a booklet A History of the Kemp Town Enclosures (1964, revised with a postscript by Anthony Orchard in 1994)
Simon Smith.
3.Documents
This collection of Conveyances, Covenants and others documents most of the history of the house, unfortunately the very earliest are missing in particular the one conveying the site from Thomas Kemp to Thomas Cubitt.
However they are a rich archive, at present in the possession of the owner of the house.
1. Deed of Covenant Mr Thos Cubitt to Thos Read Kemp esq. relating to 46 and 47 Sussex Square !7th December 1844 (copy)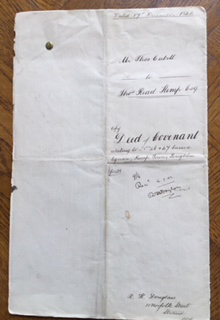 2 Copies Deed of Covenant Mr Thos Cubitt to Thos Read Kemp Esq 1844
Relating to a Committee to run the Pleasure Gardens, the upkeep of the plants and railings. Also the dimensions of the house, balcony etc.
Covenant for the production of title deeds
8 October 1855
Thomas Warner to Thomas A Garth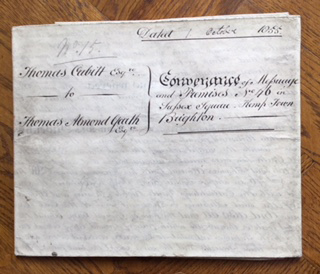 Conveyance of Messuage and Premises No 46 in Sussex Square - Kemp Town. Brighton
1 October 1855
Thomas Warner Esq to Thomas Almond Garth Esq
Death Certificate
9 August 1895
George Lawford. Stockbroker
Death Certificate
28 December 1891
Edward Harrison Solly. Land owner of independent means Dorset
Death Certificate
9 August 1895
George Lawford. Stockbroker
Conveyance
6 June 1901
T J Crowder Esq to Winefred Marquisa de Castelhomond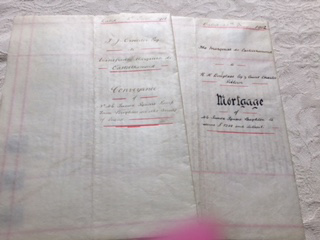 Mortgage
23 May 1902
The Marquisa de Castelthomond to R H Douglass Esq and Count Charles Seilern
£1200 and interest
Abstract of Title
1 July 1902
Marquisa de Castelthomond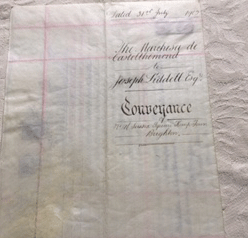 Conveyance
31 July 1902
Marquisa de Castelthomond to Joseph Liddell
Joseph Liddell was Anthony Dale's grandfather
Reconveyance of Mortgage
30 July 1902
R.H Douglass Esq and Count Charles Seilern to The Marquisa de Castelthomond
Certificate of Official Search of Land Registry
28 July 1902
No entries of Writs and Orders and Lis Pendens for 5 years
28 July 1902
J Liddell Esq
Mortgage
1 August 1902
J Liddell Esq to Mrs M Addison
Reconveyance endorsed
Requisitions on Title
7 July 1902
J Liddell Esq and Marquisa de Castelthomond
Abstract of title
31 July 1902
Anthony Dale
Conveyance
11 April 1921
A G Morrish Esq to Mrs Dorothy Dale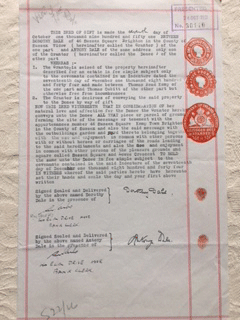 Deed of Gift
7 October 1951
Mrs Dorothy Dale to Anthony Dale
Dorothy Dale was Joseph Liddell's daughter and mother of Anthony Dale
Conveyance
28 August 1962
A Dale to Mrs H Arnold
Searches
4 June 1902
Conveyance
25 November 1966
Helen Arnold to William Metherell
Land Registry plan
Abstract of Title Draft
31 July 1902
Mrs Helen Arnold
Application for an official Search
22nd November 1966. PHOTO
Application for search
15 August 1962
Planning permission
22 August 1962
Searches
20 October 1966
Plan
7June 1995
Searches request
17 Jan 1996
Searches result
18 January 1996
Registry of Title
17 September 1998
Philip James Ryan and Kim Ryan
4. Balustrade and plasterwork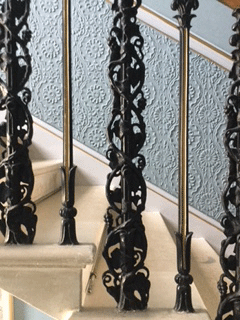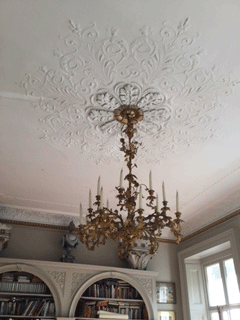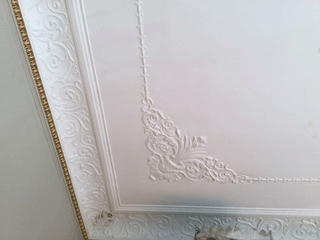 5 Bas Relief
The house has one bas relief.
The book, Hidden Treasures on the Kemp Town Estate by Vanessa Minns, published by KTS, illustrates and documents the provenance of all the 40 bas reliefs on the Estate and indicates where they can be found in other Houses in this country (Chatsworth, Osborne House) It can be purchased on Amazon from 1 May 2023