​Sussex Square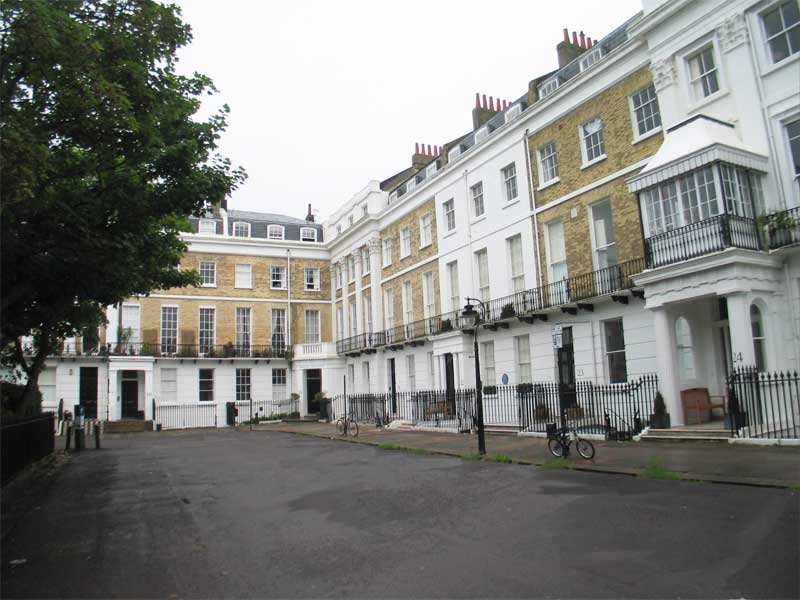 The fifty houses of Sussex Square, which is cut in half by Eastern Road, continue the architectural rhythms of Lewes Crescent with giant Corinthian pilasters on every third house. Nos 24-27 in the centre of the north side form a separate entity, projecting forward with a pediment over the middle. Not all of the houses in the square are stuccoed, a number on the west side displaying unrendered yellow brick.

The two north corners provide the largest and grandest houses, Nos 19/20, Bristol Mansions was originally the home of the the 1st Marquess and 5th Earl of Bristol. William Hallett, his builder, provided a modest enough entrance in the corner, but the house's boldest feature lies to the rear, where a Tuscan columned porch gives onto gardens extending originally as far as Church Place and Bristol Gardens. They are now covered by garages and 1950s housing. Similarly the north eastern corner, No 32, was bought by Lawrence Peel, brother of the Prime Minister. Apart from magnificent rooms, it has a huge garden which survives, extending through a tunnel to the other side of Bristol Place. It even has giant fluted ionic pilasters on its rear facade.

The first resident of Sussex Square, in February 1826, was Philip Laycock Storey, brother-in-law of Thomas Kemp, who lived at No 25. Kemp himself lived at No 22 and his sister-in-law, Mrs Ann Sober, at No 23.
Other notable residents of Sussex Square have been Lord John Russell, twice Liberal prime minister, lived at No 14 in 1838. In 1918 Lady Sackville bought Nos 39 and 40, commissioning Lutyens to design the interiors. It is thought that most of his work fell victim to later flat conversions. One of the few houses on the estate that has never been thus converted was No 46, completed in 1844 by Cubitt and lived in from 1914-1962 by Antony Dale, the Brighton historian and conservationist. He founded the Regency Society in 1945, which did much to halt the 1960s trend to replace Regency squares and terraces with high rise blocks of flats. Charles Lutwidge Dodgson (Lewis Carroll), stayed on the corner at No 11 between 1874 and 1887,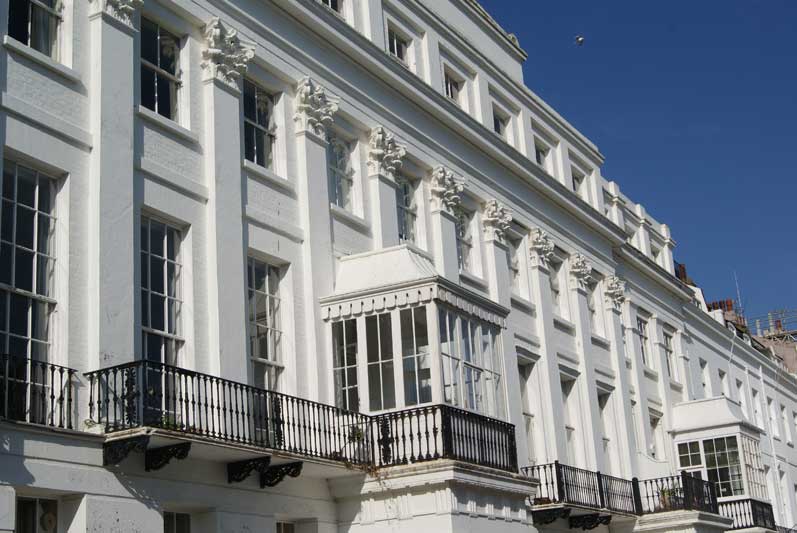 In the1890s there were no fewer than twenty schools in Sussex Square alone. Daniel McSwinney opened the first school at No 7 in 1831 and throughout the century other schools sprang up, often through impecunious widows taking in boarders to help make ends meet. Undeniably, the most successful of these was Roedean, which moved from Lewes Crescent in 1885 to take Nos 35-37 before moving eastwards to its present site in 1895. Now only one school remains, The EF Language school at Nos 1 and 2.