The History of 31 Sussex Square
1.George Frederic Watts
2.Mary Watts
3.Architecture and Bas Reliefs
4.Sales Particulars
5. Architectural features
1.George Frederic Watts
George Frederic Watts (1817‒1904) was considered to be one of the greatest artists of the Victorian period. He made portraits of the leading figures of his time, including Tennyson, Gladstone, and Carlyle, and later in his long career, he painted a number of symbolic and allegorical pictures. Among Watts' best known works are his painting Hope and his sculpture Physical Energy. The Watts Gallery at Compton, Surrey, displays over one hundred of Watts' paintings, and other major holdings of his works are at Tate Britain and the National Portrait Gallery. Watts was briefly married to the actress Ellen Terry, and in 1886 he married Mary Seton Fraser Tytler, who was an accomplished artist and designer.
From 1 November 1888 until the end of May 1889, George and Mary Watts lived at 31 Sussex Square. On 19 October 1888, Mary wrote to Watts' patron Mary Gertrude Mead: "We are so glad that you can come to visit us in Brighton, .…….We have got our house at Brighton from the 1st so we shall go there that day at latest; I do trust that this picture gallery at Brighton may have the light he likes; we have the house on trial".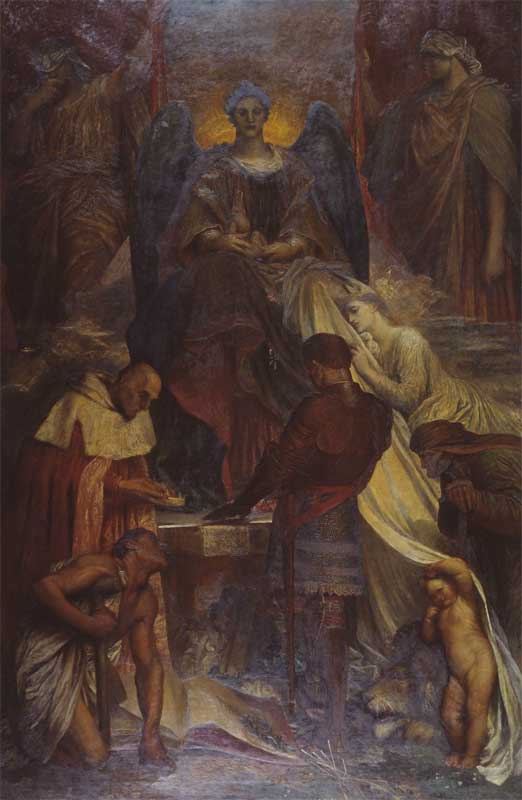 31 Sussex Square had the advantage for Watts of a studio spacious enough to accommodate his large painting 'The Court of Death', 14 feet in height, on which he was occupied, as well as several of his other well-known compositions. At Sussex Square, Watts now had a sizeable room to work in, which he didn't seem to have while he had been resident at 24 Lewes Crescent for several years previously.
Sitters included members of Sara Prinsep's family. Among Watts's younger sitters at Lewes Crescent were her grandchildren, Laura and Rachel Gurney, and their cousin Florence Fisher, who in later life became a playwright and married Darwin's son Francis.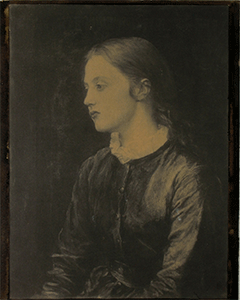 Eleven pages of Mary Watts' Annals, written after Watts' death, relate to their time at 31 Sussex Square and the work that Watts did in the house. Describing Watts' painting She Shall Be Called Woman (one of the trilogy of Eve pictures which Watts worked on in Brighton), Mary wrote: "The Brighton studio showed this picture to an advantage it has never had since. Very often we breakfasted in that room, and the morning light poured down upon the breast of the Great-Mother till it seemed to breathe and scintillate".
The Wattses were intending to leave Brighton at the end of March 1889, but Watts' work had been delayed by illness. He had been laid up in bed for several weeks, with what Mary wrote was pneumonia, and had been attended to by a nurse from the hospital. Mary wrote in the Annals: "When by degrees the strength returned, and after the long interruption he got back to the studio, he decided to stay on at Brighton till the end of May, to have the advantage of another month of work in that fine room".
The large room which Watts used as his studio at 31 Sussex Square has not yet been confirmed. However, it is known that Watts liked to use east- and south-facing rooms for his work, painting in the early morning, and Mary mentions the studio being filled with bright morning light.
Martin Kenig
2. Mary Watts
Mary Seton Watts (née Fraser Tytler; 1849-1938) was a talented designer and ceramicist, who is today celebrated as a leading practitioner of the Arts and Crafts Movement. Mary married George Frederic Watts in 1886. She spent the third winter and spring of her marriage at 31 Sussex Square (the previous two winters having been spent abroad), and in her memoir of her husband, Annals of an Artist's Life, she describes their time at the house.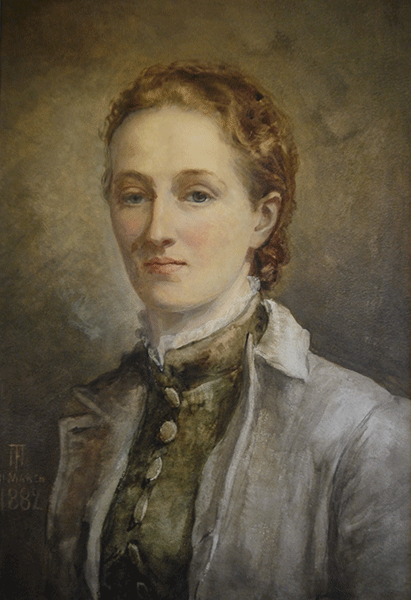 Mary was brought up in Scotland near Inverness, and the influence of her Scottish heritage can be seen in her designs. She went to London aged 21 and studied at the Slade School of Art, one of the first women to have done so. Thirty-two years younger than George, she first met the great artist at this time. Mary had already trained and become accomplished in portrait painting and Watts further encouraged her art. After her marriage, Mary essentially discontinued her own portraiture practice, and it is generally believed that she felt inadequate when she compared her artistic output with that of her husband. However, whereas she ceased to work principally in fine art, she became the distinguished decorative artist and designer for which she is now known.
It was the Watts' move to Surrey in 1891, when they built their Arts and Crafts house Limnerslease at Compton, that resulted in a new impetus and direction in Mary's work. Her interest in terracotta had started years earlier in the 1870s; she had studied with the French sculptor Aimé-Jules Dalou, and herself had taught clay modelling. At Compton too, Mary gave evening classes in pottery for the local community, continuing her involvement in the Home Arts and Industries Association that aimed to revive traditional rural arts and crafts. She established a commercial enterprise, The Compton Pottery, that continued for over fifty years.
Above all, Mary excelled as a designer. At Limnerslease, she decorated the ceilings with gesso panels and set up her own studio there, working alongside and sharing ideas with her husband. Her greatest achievement is The Watts Mortuary Chapel, built and decorated with the help of her trainees among the community at Compton. Here she combined Celtic, Romanesque, Egyptian, and Art Nouveau styles to create a unique decorative imagery.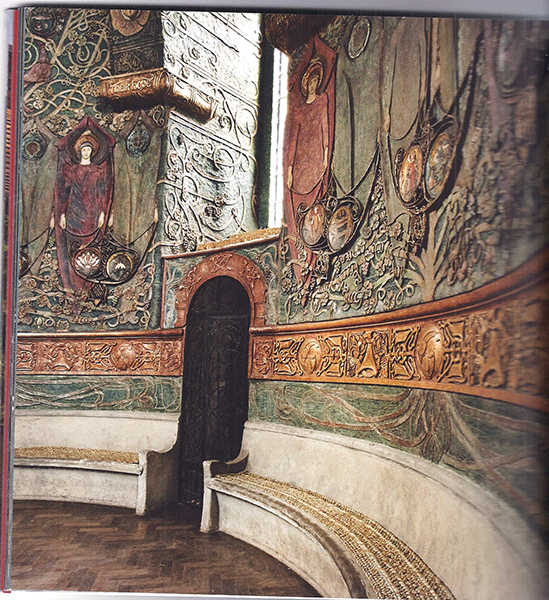 George Watts was able to see the Chapel, and the Gallery which Mary constructed to display his pictures, just before he died in 1904. After his death, Mary devoted herself to keeping alive Watts' legacy, but she also continued with her artistic endeavours that spectacularly included the fabrication of embroidered silk banners. Furthermore, Mary became much involved with the women's suffrage movement. She was appointed President of the Godalming and District Women's Suffrage Society in 1909. Mary also supported a greater role for women in art and education, becoming Honorary Chair in 1907 of the Women's Guild of Arts.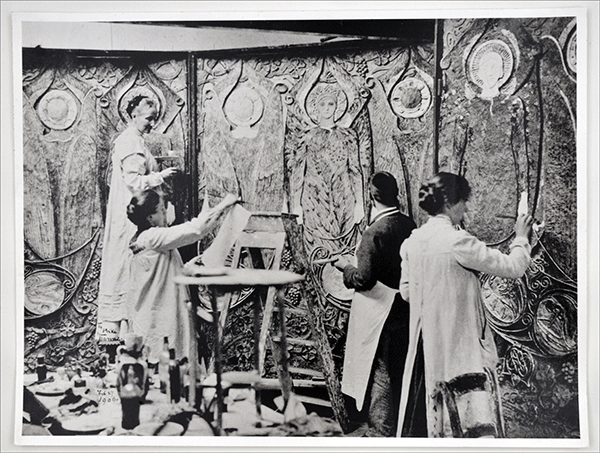 It is perhaps through her recently published diaries that we can get to know Mary best. Unfortunately, the volume of her diary that covered the months when she lived in Sussex Square is now lost. However, several later volumes remain, and in these she refers to occasional plans to return to Brighton. Remarking on a time when they were ill, Mary writes: "Both still rather frail, but towards the afternoon we were both better. The wind in the south, the day was quite sultry – I long for Signor [as Watts was known] to get away for a little change to Brighton. I think the sea air will give him the filip he has been wanting some time."
Martin Kenig
All images copyright The Watts Gallery Trust
Martin Kenig has published a book entitled 'The Winter Studio' than can be purchased via Waterstones Bookshop
3.Architecture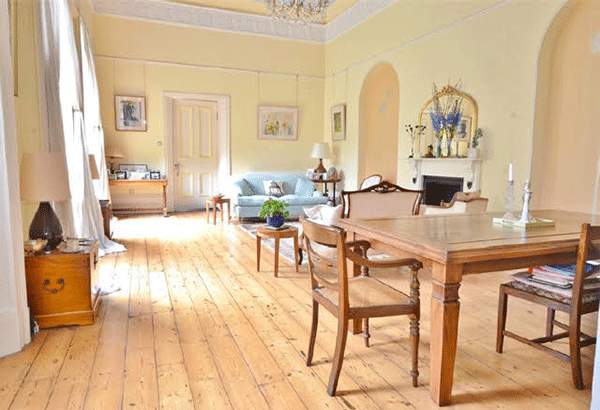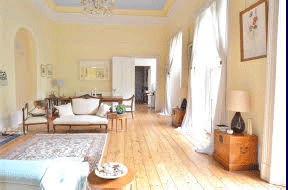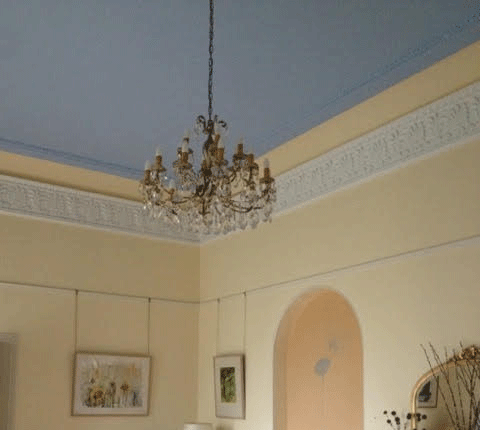 5. Architectural features and Bas Reliefs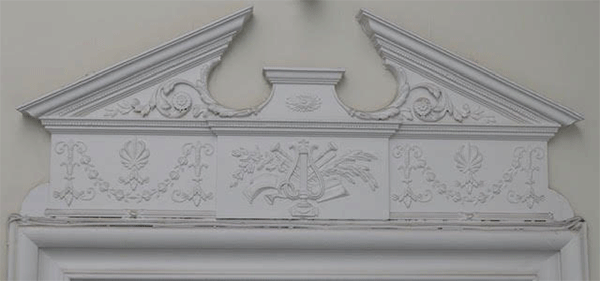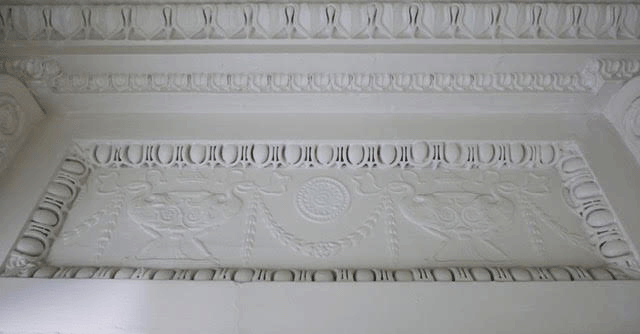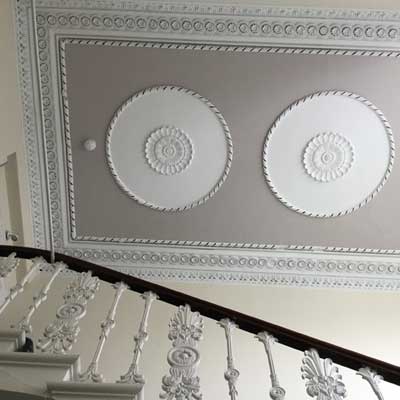 4.Sales Particulars
BRIGHTON. —To BE Sold by Private Contract. THE SPLENDID FREEHOLD MANSION,completely Furnished, No. 31, SUSSEX SQUARE, KEMP TOWN, Land-tax redeemed, on reasonable terms, or other property would be taken in exchange; now tbe
residence of the Right Hon. the Earl of Airlie, and possession may be bad on the Ist of August, 1846, if required. The back front of the Mansion looks over a lawn, and adjoining thereto is a capital Conservatory and Stabling for 13horses, Coach-house for six carriages, &c., tic. The premises are
abundantly supplied with fine spring water, and soft is laid on to all parts ofthe house by the Water Company. There is a Bath-room supplied with hot and cold water. The Mansion is nearly opposite the residence of the Marquis of Bristol,and adjoins that of Lawrence Peel, Esq. The purchaser may have the option of taking the whole or any part of the Furniture at valuation. The Mansion can only be viewed between the hours of Two and Four on Mondays, Wednesdays, and Fridays, and a ticket only, to be had of Messrs. Karslake and Crealock, solicitors, 4. Regent Street, Waterloo Place, London; Mr Kensit, solicitor,Skinner's Hall, Dowgate Hill; or Mr Moore, 40, Sussex Square
Brighton Gazette and Lewes Observer
4 June 1846