The History of 19 Lewes Crescent
1 Specification for architectural detail in Lease at No 19 Lewes Crescent
2 Jack Buchanan 1
Jack Buchanan 2
3 Bruno Scott James
4 Christopher Doll
5 Sale Particulars
6.Staircase
1 Conveyance showing detailed specification for building design
Thomas Kemp specified minutely the design of each detail of the buildings. This was incorporated in the Leases as he sold them. This Extract from the Conveyance dated 1884 The Duke of Devonshire to William Kemp Welch for no 17 Lewes Crescent contains the specification for the balcony and iron work.
' Also that the said Peter Cazalet his heirs or assigns shall not or will at any time or times hereafter erect or suffer to be erected or fixed in front of the said messuage or tenement any Veranda whatsoever but shall and will keep and preserve an Iron Balcony before the front of the said messuage or tenement which Balcony shall not exceed two feet six inches in projection nor extend the whole front of the said messuage or tenement but shall leave nine inches at each end of the said Balcony so as to leave a space between the Balconies of each house such balcony to consist of Portland Stone and Iron Railing and the pattern or design of the said Iron Work to be the same as the pattern and design of the Iron work .... now used in Kemp Town .....
Specification for architectural detail in Lease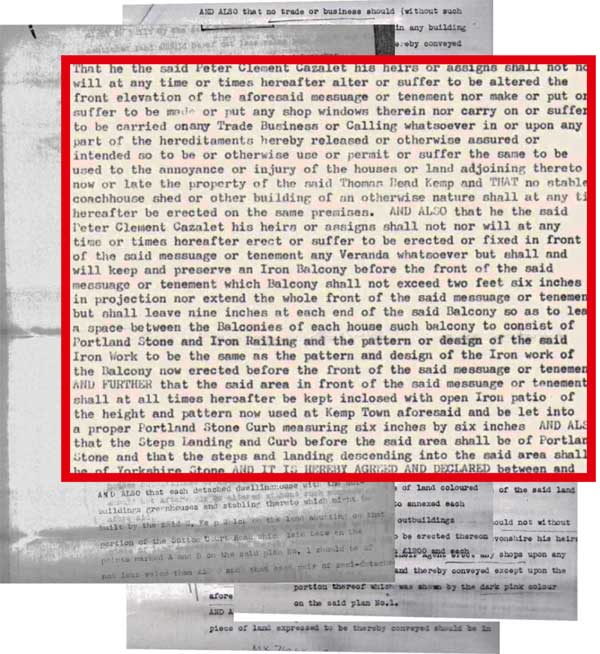 2 Jack Buchanan, actor, singer, producer at 19 Lewes Crescent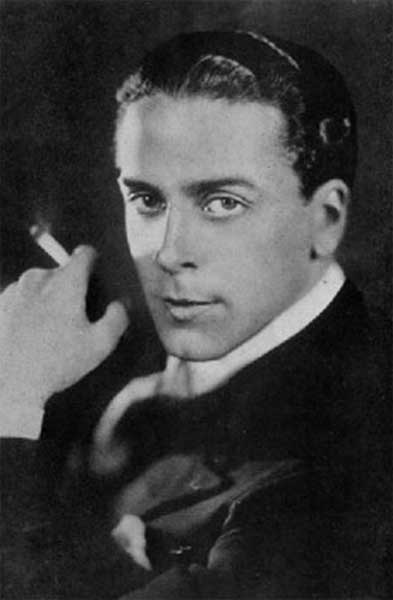 Jack Buchanan: born 1891 - died 1957. lived for some years at 19 Lewes Crescent. He was a well known actor, singer, dancer, producer and director, particularly in the period between the Wars and was regarded by many as Britain's answer to Fred Astaire. He appeared in the classic Hollywood film, 'Band Wagon' but his fame in this country was based on his West End career where he appeared in many revues and variety shows along with stars such as Gertrude Lawrence. Appearing initially as a comic he progressed to become the epitome of suave sophistication and people who saw him perform attested to his charisma on stage. Ivor Novello's famous song "And her mother came too" became his signature song though he is also remembered for performing the title song in the Herbert Wilcox musical "Goodnight Vienna" https://www.youtube.com/watch?v=o38Qwz1j8KQ . He had a successful career in Radio and, during the Second World War, hosted "The Jack Buchanan Show" and in the fifties, "Man About Town."
Jack was very much in the tradition of Actor Management being involved commercially in many theatres and productions. His interest in Brighton, apart from its rich theatrical associations lies probably in his ownership of the large and spectacular art deco theatre in Upper North Street, "The Imperial" , sadly demolished in the 1980's, despite a public outcry, to make way for retail establishments (currently a 'Pound Shop' and a sports goods outlet).
He had a close association with the TV pioneer John Logie Baird and apart from having a commercial interest in his ventures, participated under his direction in the first TV outside broadcast.
Philip Tucker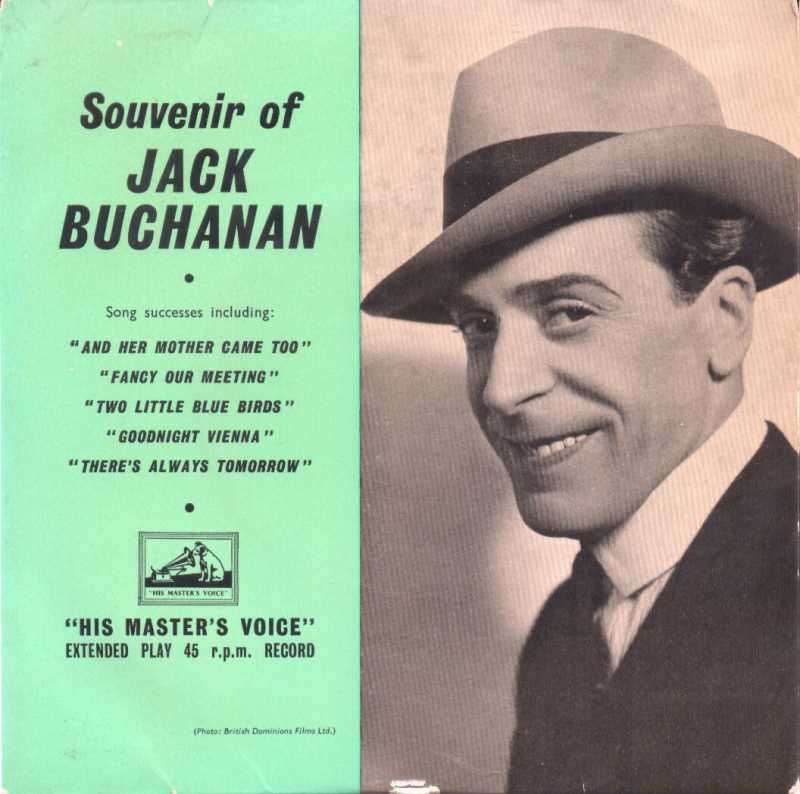 Jack Buchanan (take 2)
Jack Buchanan, was renowned for his portrayal of the quintessential English gentleman on stage and screen, despite being a Scot, He was well known in theatre circles for his financial generosity to actors and chorus performers who were less prosperous that he was. His affair with the actress Coral Browne is immortalised in the Alan Bennett play 'An Englishman Abroad' in which the spy Guy Burgess, exiled to Moscow, plays Jack's recording of 'Who' on a gramophone while the Coral Browne character tells him that she 'almost married' Jack Buchanan.
In 1953 the film star, Anna Neagle, came to live at 18 Lewes Crescent with her husband Herbert Wilcox. Jack and Anna had starred together in the 1931 West End Musical 'Stand Up and Sing'. It was through seeing them in this musical that Herbert Wilcox gave them starring roles in his 1932 film 'Goodnight Vienna'.
Jack had the upper maisonette at 19 Lewes Crescent in the years before he died of cancer aged 66 in 1957.
Andrew Doig
3 Bruno Scott James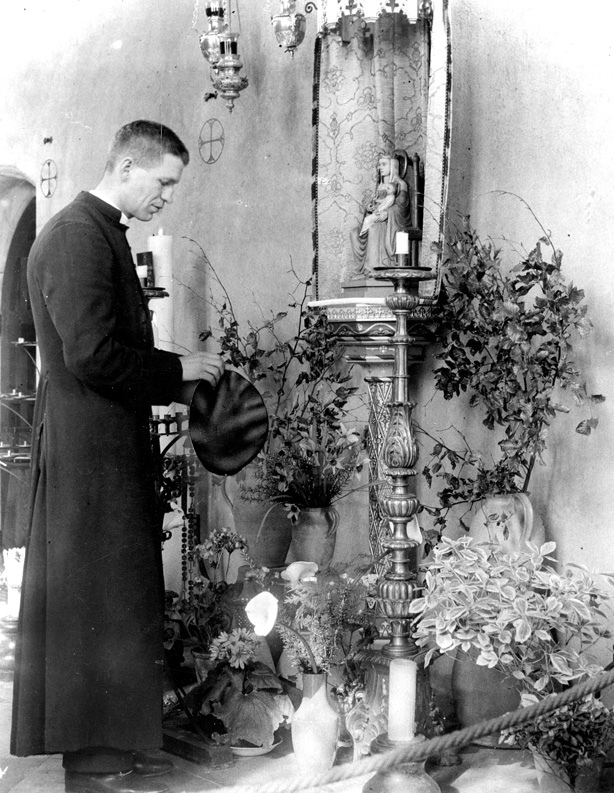 Monsignor Bruno Scot James 1906 16/03/1984 lived for many years at 19 Lewes Crescent.
Born into a wealthy and influential family in the West Country Bruno Scot James shocked his family by following a vocation and entering the church, initially as an Anglican but after a visit to the Slipper Chapel at Walsingham took instruction and was received into the Catholic Church at Sacred Heart, Hove.
He spent some time as a chaplain at Downside Abbey before taking instruction for the secular priesthood and subsequently being appointed by the Bishop of Northampton to re-establish the Catholic Shrine at the Slipper Chapel in Walsingham (the first since the Reformation). Having achieved this he moved to Naples where he set up and ran a Residence Hall for students at the University of Naples, until a breakdown in health forced him to leave. He remained in Italy however and was appointed by Pope Paul VI as Canon of the Basilica of Santa Maria in Rome with the title of Monsignor. Failing health finally caused him to retire and he moved to live with family friends in Lewes Crescent until his death in 1984.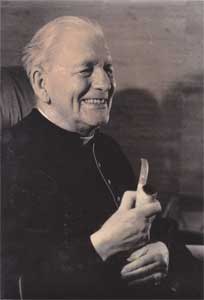 He was an imposing and impressive presence, a fine classical scholar with a deep knowledge of the early Church Fathers. He had, however, acquired in his early years a taste for the finer things in life. He had been a gourmet with a wide and deep knowledge and appreciation of wine. As a young man he visited the fashionable resorts of the Cote d'Azure and Italy, racing across Europe in his Open topped Lagonda, but he gave up this sybaritic lifestyle when he was accepted into the church. Monsignor Bishop Wheeler of Leeds related how he would work for weeks totally concentrating on his then current project without any thought for his own physical comfort – he would for example live for weeks on a diet of cornflakes but would every so often suddenly announce that that was enough. He would then take his staff off to the nearest fine dining establishment for a complete feast with all the finest the kitchens could provide and accompanied by the very best wines. Then it would be back to cornflakes!.
On one occasion, shortly before he died, he was ill in bed in his room in 19 Lewes Crescent when workmen were busy doing some repairs to the front room of the flat. They were somewhat taken aback when Father Bruno suddenly appeared completely naked in the doorway to ask very politely whether any of them could give him a light for his cigarette. A somewhat dumbfounded plasterer lit his cigarette for him whereupon he thanked him graciously and disappeared in stately fashion back to his bed.
Philip Tucker
4 Christopher Doll
Christopher Doll, who lived at 19 Lewes Crescent for the latter part of the last century was a fighter pilot in the last War and participated in the Battle of Britain, serving at one period in the Squadron with Group Captain Peter Townsend. He had an active war and in the five and one half years he flew in active combat had to bale out three times from his aircraft and was shot down twice. He was the recipient of the DFC and was also decorated by both the American and Polish Governments
After the War he went into the Film industry joining MGM studios as a cameraman where he worked with the great stars of the day including Spencer Tracy, Elizabeth Taylor, Joan Crawford, Greer Garson and Clark Gable. His ambition however was to direct, so he left MGM to join the BBC in 1955 as a producer/director of documentaries, comedies and informational films.
In 1968 he set up his own production company to make documentaries, spending 6 weeks crossing the Atlantic with Sir Francis Chichester, made 'Pilots Royal' with The Prince of Wales and a documentary, for which he was uniquely suited, on the Battle of Britain. He was also involved in the making of the Bond film 'Live and Let Die'. He features in the autobiography of Robert Robinson, of 'Call My Bluff' fame and numbered many well known personalities as personal friends. People as diverse as author Monica Dickens, actor Spike Milligan and pop star Adam Faith were visitors to his home in Lewes Crescent. Christopher's brother was the eminent Sir Richard Doll, the foremost epidemiologist who was a pioneer in the research that led to the linking of smoking to cancer.
Married to American writer Elise Piquet he spent part of his year in New England and died there in 2004.
Philip Tucker
5 Sale Particulars
IMPORTANT FREEHOLD PROPERTY. KEMP TOWN. MR WILKINSON has been favoured with instructions from the Executors of the late Peter Cazalet, Esq., to Sell Auction, at his Estate Sale Rooms, North Street, on Saturday, July 14th, 1860,at Two for Three o'clock precisely, TWO SUPERIOR RESIDENCES, situate and being Nos. 18 and 19, LEWES CRESCENT, KEMP TOWN, overlooking the Kemp Town Enclosures, the latter with good Stabling. The late owner, having for many years himself occupied these houses, spared expense to render them comfortable; they are heated by hot water, have double windows the rear and outside blinds in front, and are complete in every arrangement. No. 18, LEWES CRESCENT comprises dining room, library, ante room, smoking room, billiard room, bedroom, and dressing room, on the ground floor ; double drawing rooms and roomover portico, and seven bed rooms and a dressing room above. On the first half-landing is a conservatory, communicating by an outside iron staircase with the basement, which is light and cheerful, containing butler's bed room, kitchen, cellars, fire-proof plate closet, and every convenience.
No 19, LEWES CRESCENT contains (lining room, library, bath room, and three bedrooms, on the ground floor ; double drawing rooms and conservatory communicating with large lead flat, and six bed rooms and a dressing room on second and third floors, with every comfort in the basement. The STABLING is situate at the rear, communicating with the house by a tunnelled way and stone steps, and consists of three stall stable and coach house, harness room,coachman's room, loft, &c., with good yard. Particulars and conditions of sale may be had, fourteen days prior to the sale, of Messrs. Freshfield and Newman, 5, Hank Buildings, London, E.C., and at Mr WILKINSON'S Offices, 16S,North Street, Brighton.
6.Staircase