The History of 16 Lewes Crescent
1 Samuel Cortauld
2 Mike Richey
3 Bas reliefs
1 Samuel Courtauld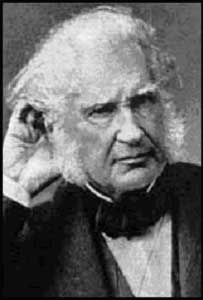 Samuel Courtauld, the driving force behind the growth of the Courtauld textile business in the 19th century, had a seaside house here on the Kemp Town Estate. His three silk mills in Essex, employed more than 2,000 people making the black silk crepe favoured for Victorian mourning dress. He bought 16 Lewes Crescent as his seaside home. The house had stood as an empty carcase for more than 20 years after Thomas Goodall took the building plot from Thomas Kemp and built the structure in 1830. Samuel Courtauld took over the house in carcase and completed its fitting out by 1853. It was first occupied 24 years after the façade was erected as part of Kemp's grand scheme.
The house was one of the great palaces of the estate along with those of the Duke of Devonshire at No.1 Lewes Crescent, the Marquis of Bristol at 19-20 Sussex Square and Lawrence and Lady Jane Peel at 32 Sussex Square. Courtauld had become a very wealthy man but his politics were liberal and while he would have had much in common with the Whig Duke of Devonshire, his other grand neighbours, the Marquis of Bristol and the Peels were staunch Tories. He supported the cause of parliamentary reform, finally achieved in the Great Reform Bill of 1832 and the repeal of the Corn Laws achieved in 1846, all in the face of strong opposition from the Tories.
Sadly Samuel Courtauld's presence here made little impact on the estate as two years later his attention turned to the acquisition and improvement of a grand and historic house at Gosfield Hall, Essex, a former home of the French King Loius XVIII in exile. 16 Lewes Crescent was left in the charge of a housekeeper. In 1865, the next door neighbour, a Mr Leigh, built himself a large extension on the rear of No.17 Lewes Crescent, which as you can see today infringes the passage of light to the rear of No.16. Samuel Courtauld took Leigh to court and established his right of light. The matter was settled by compensation in 1869 but not long afterwards Courtauld sold the house and left Brighton forever. The infringement of light could not have been the real reason for his loss of interest in Brighton for practically all the principal rooms of No.16 Lewes Crescent are flooded with light from windows of its extraordinary 100 foot long elevation to the sea.
An estate agent's particulars of 1875 describes No.16's 5 sitting rooms, 17 bed and dressing rooms and complete 'domestic offices'. It was lit with gas and provided with hot and cold water to every floor. A tunnel under Arundel Place at the rear connected the house to a large stables and laundry building, flower and kitchen gardens with vineries and well stocked with fruit trees, all now occupied by Kemp Town Mews.
Andrew Doig
2 Mike Richey
Trans Atlantic yachtsman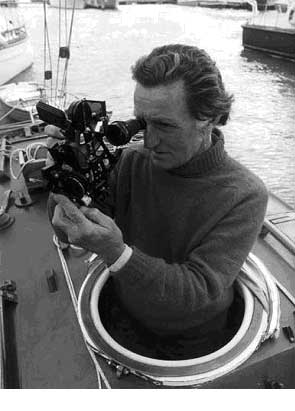 Mike Richey, lived at 16 Lewes Crescent from 1957 and was a familiar figure on the estate until his death in 2009. He was seen frequently in the gardens or on his old bike going up to Mass at the, then, St. Benedict's Convent in Manor Road.
Mike was educated at the Benedictine school at Downside Abbey. After school he planned to enter a monastery and spent a short time as a potential postulant at the Trappist monastery on Caldey Island. During his years at Downside, he became
interested in the work of sculptor Eric Gill and was apprenticed to him,
learning lettering and stone carving. For three years, Richey worked with Gill
and his group of talented young artists, some of whom would become lifelong
friends.
At the outbreak of the Second World War, in 1939, Mike, whose inclinations were pacifist, settled for minesweeping and got an assignment in the Royal Naval Patrol Service on board the HMS Goodwill. After the ship was blown up in 1940, he completed officer training and was commissioned. He served at sea for almost the entire war on eight or nine ships, primarily in the Western Approaches, including a spell with the Free French Navy.
Roy Greenslade who knew both Paul and Mike wrote, 'Mike was the founding director of the Royal Institute of Navigation. He celebrated his 80th birthday in 1997 aboard his 25ft junk-rigged boat, Jester, in his 13th, and final, single-handed Atlantic crossing. Five years before that, he had crossed and re-crossed the ocean. Mike, was an indefatigable solo yachtsman, an expert on astro-navigation and a stylish writer who imparted knowledge with clarity and elegance.
His sister-in-law, Diana, summed him up best, describing him as "wonderfully and infuriatingly eccentric, a total original" and adding: "In my view, his rarest achievement was to be 100 per cent his own man."' He will be known and missed by many on the estate.
For further reading: Paul Richey 5 Arundel Terrace
Andrew Doig
_________________________________________________________________________________________________________________________________________________________________________________________
Mike Richey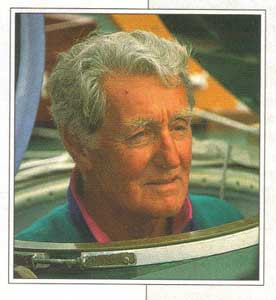 Michael Richey (1917 -2009) lived for many years at No 17 Lewes Crescent, an eccentric but much respected resident. His Spartan almost monk-like existence in his final years belied his extraordinary life. Born the son of a military man he spent his early life in Albania and Switzerland before being sent to boarding school at Downside, the well known Catholic public school. He toyed at one time with going into the church, but after leaving school decided he wanted to be a sculptor and was apprenticed to the Ditchling sculptor Eric Gill until he decided that that, too, was not for him.
On the outbreak of war his instincts were initially pacifist but he finally settled for the navy and found his true vocation in sailing and navigation experiencing a full and active service he served on minesweepers and anti submarine vessels from the North Atlantic to Antarctic, discovering in this time a passion for astronomical navigation. After the war he was appointed Chief Executive of the newly formed Royal Institute of Navigation at the Royal Geographical Society and was founder of the Journal of Navigation.
In the 1950's he took up ocean racing and under the influence of Sir Francis Chichester he became a remarkable single-handed seafarer on his well known boat 'Jester'. He was awarded the Gold Medal of the Royal Institute of Navigation and the Seamanship Medal of The Royal Cruising Club. In 1997 he entered the Guinness book of records for being the oldest seaman to cross the Atlantic single handed (he was 80 years old at the time of his crossing). Even in his nineties he could be seen regularly cycling up and down the seafront in Brighton.
He was a quiet self effacing man but possessed of a nice dry sense of humour. I recall a neighbourhood drinks party at which he was cornered by a rather pompous man who was talking at great length about the merits of his new BMW car. At the end of his discourse he turned to Michael and asked,
"What sort of car do you have Michael?"
Without missing a beat Michael replied,
"A blue one."
And turned to the buffet table.
Philip Tucker
The KTS Cubitt Research Project
Undertaken to mark the 2023 Centenary the project aims to establish which. if any, other houses on the Estate may have been built by Thomas Cubitt.
These photographs of the interior of Nos 15/16 Lewes Crescent although all the features associated with a typical 'Cubitt house' are present, there is no documentaru evidence at this time (2022) to prove that Cubitt was involved. The first bas relief is the most magnificent one on the Estate and represents Alexander the Great's triumphal entry into Babylon. The original was commissioned by Napoleon Bonaparte to celebrate his planned coronation in Rome. Sculptor Bertel Thorvaldsen completed the work in 3 months. Unfortunately the coronation never took place. However the 35m Frieze itself became immensely popular. Thorvaldsen made copies. 2 of which are in the Thorvaldsen Museum in Copenhagen. On the Kemp Town Estate there are several bas reliefs showing parts of the Frieze.