The History of 13 Lewes Crescent
1 Thomas Cubitt
2 Mr and Mrs C.A.Knight
3 Hospital for New Zealand Officers
1 Thomas Cubitt
Thomas Cubitt lived in No 13 Lewes Crescent. The house is registered to Mrs Cubitt from 1856 -1881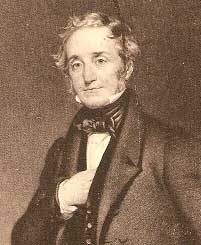 Thomas Cubitt (1788 - 1855 ) was born in Buxton, Norfolk. His father was a carpenter, a trade his son was, initially, to follow.Over time he became one of the leading master builders of the period and his other work included Osborne House on the Isle of Wight, the east front of Buckingham Palace, Tavistock, Eaton and Belgrave Squares and large areas of Pimlico and Bloomsbury. It is said that his difficulties in dealing with architects made him concentrate on speculative development rather than contracting for buildings. 'The Emperor of the Building Trade' was arguably the greatest builder of his time.He built Osborne House on the Isle of Wight, the east front of Buckingham Palace, Tavistock, Eaton and Belgrave Squares and large areas of Pimlico and Bloomsbury.
In the system of the time, a land owner wanting to develop a site might lease plots to small builders who sub-contracted work to other trades. A bricklayer might decide to build a couple of houses. A carpenter might build a couple more and a plasterer/decorator, a fifth. Because each had so littlecapital, they worked as a group, sub-contracting themselves to each other. Each did all the skilled work in his own trade and laboured for the others.Cubitt brought all the trades together in one firm and so revolutionised the building process. From his 11 acre works site in Pimlico, Cubitt bothemployed and managed around 1000 men of all trades and professions running several projects concurrently.
His enormous light,warm and well equipped workshops contained steam powered engines which in turn ran machines which produced work previously done by hand. Many of these machines were developed by Cubitt himself and he was always chary of allowing outsiders to view his workshops. In this way, doors, window frames, plaster cornices and marble slabs for stairs and fireplaces were mass produced in Pimlico. It is thought that the bas reliefs found in nearly every Cubitt built house on the Kemp Town Estate would have been cast in the huge plaster work shop there.
Cubitt bought 37 plots with carcasses on the Kemp Town Estate in 1826/7 and completed houses on all of them over the next 20 years . The facades in the completed Arundel Terrace having been found too elaborate and too expensive, he redesigned the facades in exact replica of his recently completed Tavistock and later Eaton Squares including the cast iron balconies and stucco work. Although Thomas Read Kemp is believed to have designed the railings, much of the cast iron work in Arundel Terrace is different from that seen on the rest of the Estate.
When Thomas Cubitt came to build Chichester Terrace in 1850, 20 years after he acquired the plots from Kemp, The porches and belvederes went up as part of the initial build although under the strict building specifications incorporated into both leasehold and freehold agreements no additions were allowed. However Mr Bell of the Bush Hotel in Arundel Terrace asked Kemp for permission to erect a porch to protect his guests from the weather as they climbed out of their coaches at the hotel. The Duke of Devonshire wanted one too ! Once his porch and belvedere was seen at No 1 Lewes Crescent in 1831, a precedent had been well and truly set and more and more were added around the rest of the Estate.Evidence that Chichester Terrace had not initially been designed to be built in phases can be seen in the fact that numbers 1-6 have their courtyards on the east side of their porches whilst 7-14 have theirs on the west.
In fact the terrace was planned to be 13 houses, balancing Arundel Terrace, with space for a road through to stables and mews left betwen Nos 6 and 7. However Cubitt a canny developer, used the space left for the road to include another house. This explains the subsequently built 14 houses in the Terrace.Cubitt houses typically have stone staircases, skirtings of a particular design and often there are bas relief plaques installed in the hall or over the staircase. The interior layouts are not identical as many of them were designed for specific customers. All the houses differ in their internal arrangements because Thomas Cubitt waited until the shells had been purchased and then allowed the individual owners, George Ashburner in the case of number 4 and John Lee at number 5, to choose the size and number of rooms and other major features.
Cubitt had a habit of staying or living in any completed and furnished property on site however in Brighton he settled into 13 Lewes Crescent with his family who enjoyed visiting the seaside. After his death in 1855 the house continued to be registered to Mrs Cubitt from 1856 to 1881.
Cubitt built himself a great country house in Surrey, on land near Dorking. Prince Albert and the great and the great and good of Victorian England visited him there.
When he died, in 1855, Queen Victoria said "In his sphere of life, with the immense business he had in hand, he is a real national loss. A better, kindhearted or more simple, unassuming man never breathed."
2 C.A.Knight
During their occupancy of No 13 Lewes Crescent Mr and Mrs Knight made a photograph album which was effectively a catalogue of the room and their furnishing. This album is in private ownership, Philippe Garner has generously allowed display of the hitherto unpublished photographs below.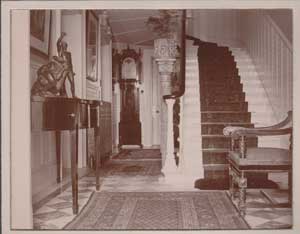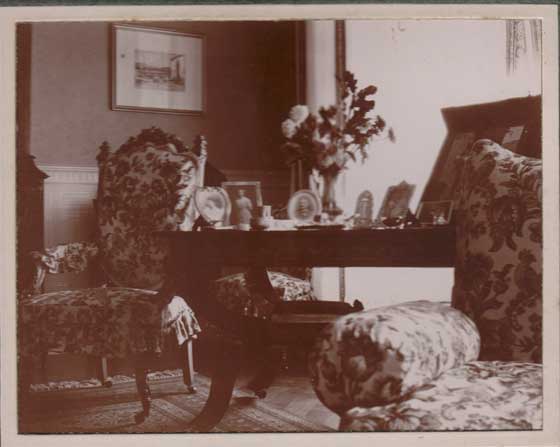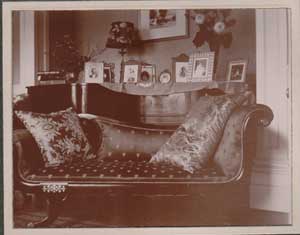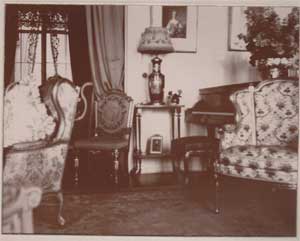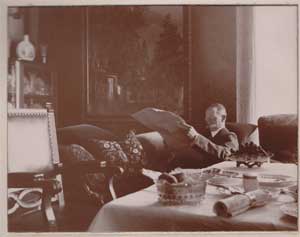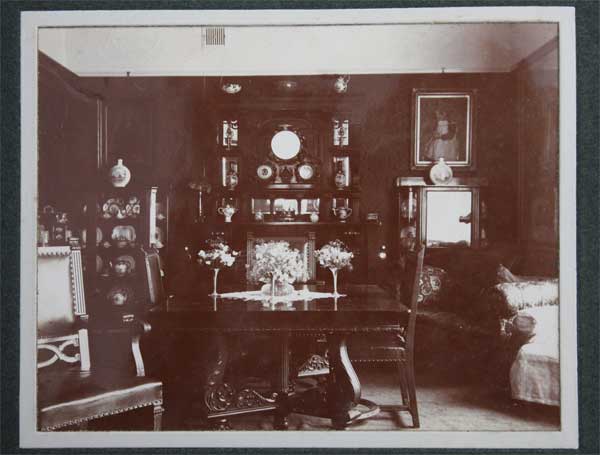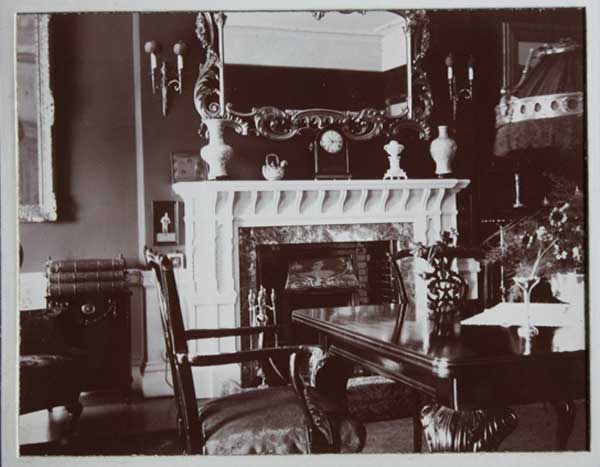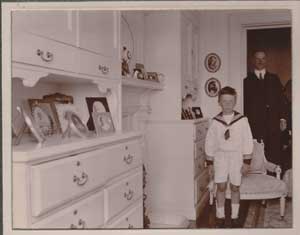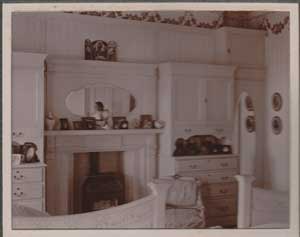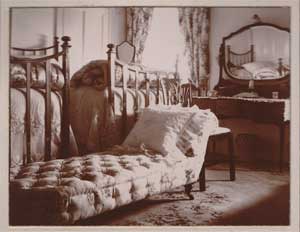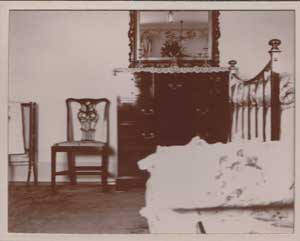 Bathroom
3 Mr Knight's hospital for New Zealand Officers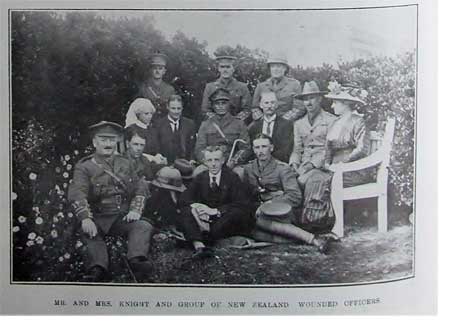 ''Mr.Charles A.Knight's munificent hospitality to the country by the presentation of his beautiful home, 13,Lewes Crescent as a hospital for wounded New Zealand Officers, deserves some mention amongst the record of 'war work' in the town. The generosity of such an act is difficult to estimate, for the upkeep is entirely defrayed by himself. It is gratifying to think that Brighton with its world famous reputation for health and restorative air should, through the medium of such patriotic benevolence, be able to offer such magnificent succour to the sons of Great Britain. Truly their devotion to the Motherland speaks volumes for the patriotism of our vast colonial nations, and touchingly pathetic in its simplicity is their sense of duty ''
From The Brighton Gazette Summer Season 1915
___________________________________________________________________________________________________
During the First World War, Brighton hosted substantial numbers of wounded soldiers. The workhouse on Elm Grove was vacated to become the Kitchener War Hospital. The Royal Pavilion was used for wounded Indian soldiers. Schools, convalescent homes and private houses across Brighton were requisitioned for the Military's 2nd Eastern general Hospital, including 16 Lewes Crescent where Canadian and then British soldiers were cared for. 28 Lewes Crescent became a nurses' home. Mr.Knight opened his 2 conjoined houses at 13 Lewes Crescent for use as a convalescent home for New Zealand Officers.
Andrew Doig
Sir Robert Peel
Sir Robert Peel, Prime Minister at the time, stayed at No 13 Lewes Crescent for a short period in 1842