The History of 8 Arundel Terrace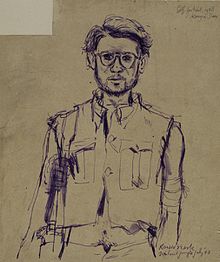 Ronald Searle
Ronald Searle was born in Cambridge, England, where his father was a porter at Cambridge Railway Station. He started drawing at the age of five and left school at the age of 15. He trained at Cambridge College of Arts and Technology (now Anglia Ruskin University) for two years. In April 1939, realizing that war was inevitable, he abandoned his art studies to enlist in the Royal Engineers. In January 1942, he was stationed in Singapore. After a month of fighting in Malaya, Singapore fell to the Japanese, and he was taken prisoner along with his cousin Tom Fordham Searle. He spent the rest of the war a prisoner, first in Changi Prison and then in the Kwai jungle, working on the Siam-Burma Death Railway. Searle contracted both beri-beri and malaria during his incarceration, which included numerous beatings, and his weight dropped to less than 40 kilograms. He was liberated in late 1945 with the final defeat of the Japanese. Immediately after the war, he served as a courtroom artist at the Nuremberg trials.
He married the journalist Kaye Webb in 1947; they had twins, Kate and Johnny. In 1961, he moved to Paris, leaving his family and later marrying Monica Koenig, a painter, theatre and jewellery designer.
He had a flat in No 8 from 1958 -1964.
After 1975, Searle and his wife lived and worked in the mountains of Haute Provence.
Vanessa Minns